20 November 2014 // Serena Asselman //Rotterdam
//

HOUSEVISIT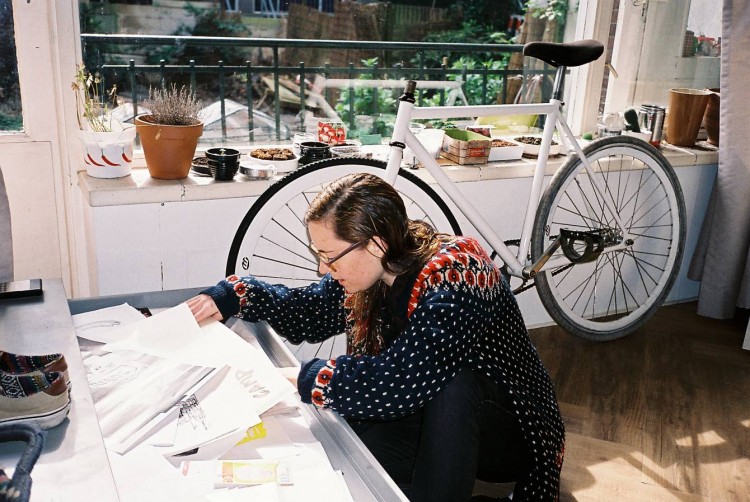 Saskia Haex, a Rotterdam based artist / graphic designer / teacher from Weert, a village in the South of Holland.
We visited Saskia on a sunny saturday morning at her house in Rotterdam. A house divided by a wall, two large sunny rooms and a garden. She lives there with her cat Katleen, since a week she's also the proud owner of 2 chickens. The window-sill is full of cups, vegetables are growing in these, there is also has a mini-greenhouse in the garden.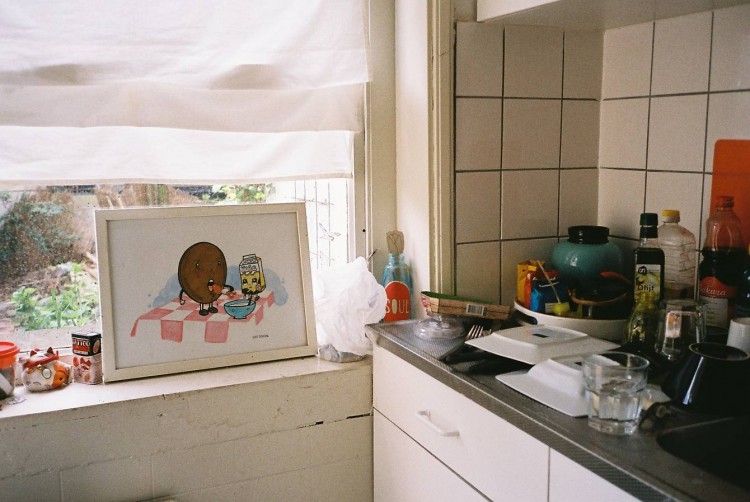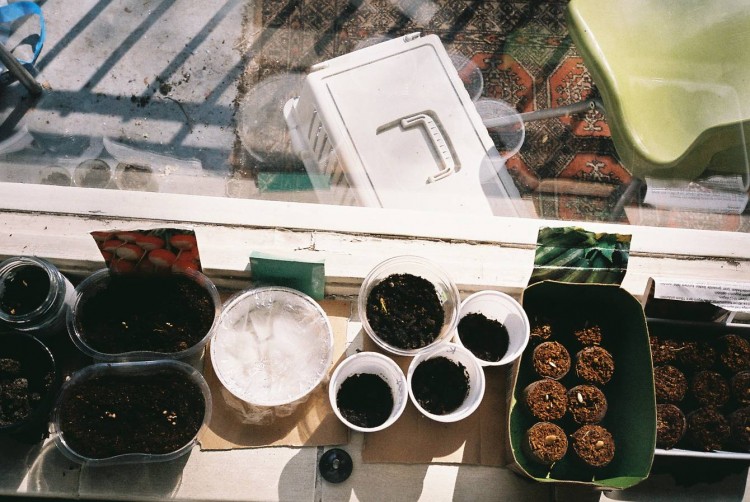 The pictures and drawings on the wall she explains, are pieces from other artists she exchanged for one of her works. 'I own so many drawings and pictures that not everything fits my walls'. Some of her own works are stored in a cabinet beneath her tv. These are the start sketches of her work, as almost all her work becomes digital to be printed.
Saskia tells she just got back from Berlin, where she worked on a large scale project; a bicycle fair. She created the design of the fair, which means the creation of artworks, the campaign and posters, but also creating prints for clothing that people who work at the fair will wear. The posters for the fair where placed all over Berlin, Saskia is very proud being part off such a big project. Before she was a teacher at the Graphic school, 'by doing various things it keeps me in a working flow I really like, it also means meeting new people and creating new jobs and opportunities'.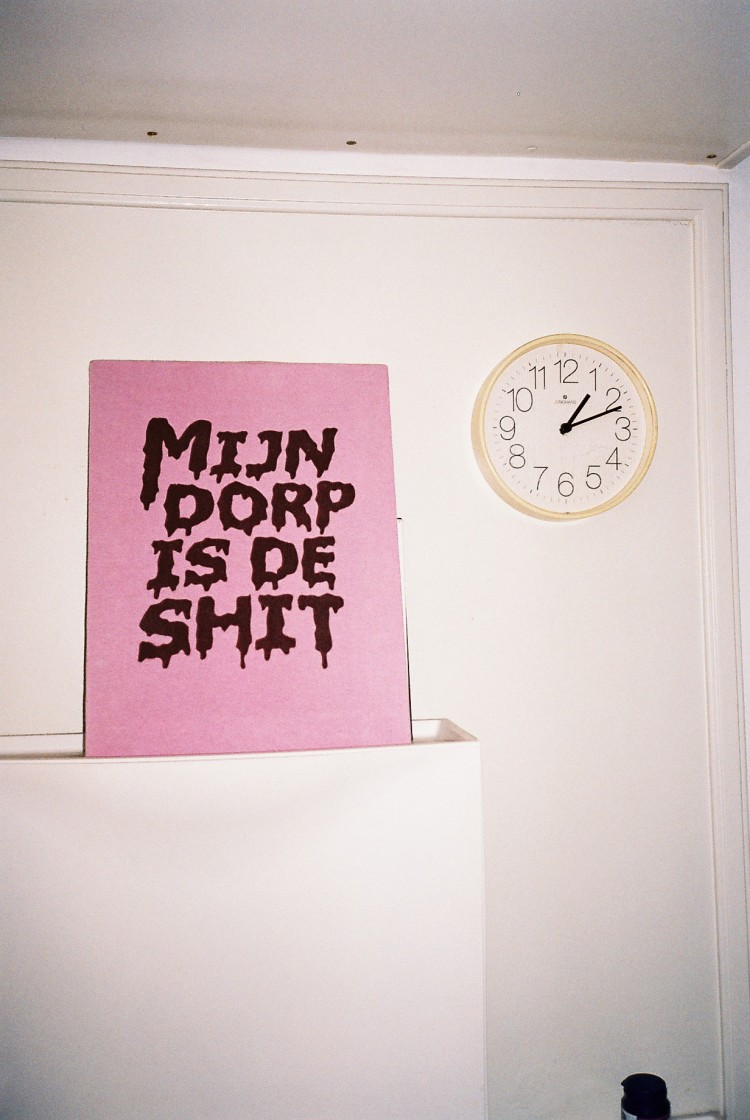 Being a teacher she tells her students to work in concepts, how to create a concept and how to talk about their work. This also made talking about her own work and aspirations easier. In her own 'free' work Saskia finds inspiration in anti-hero's, anti hero's are characters who lack conventional heroic attributes. Her favorite drawing is a drawing she made of hero Marianne Vos. A inspirational woman that's one of the best cyclist of the world.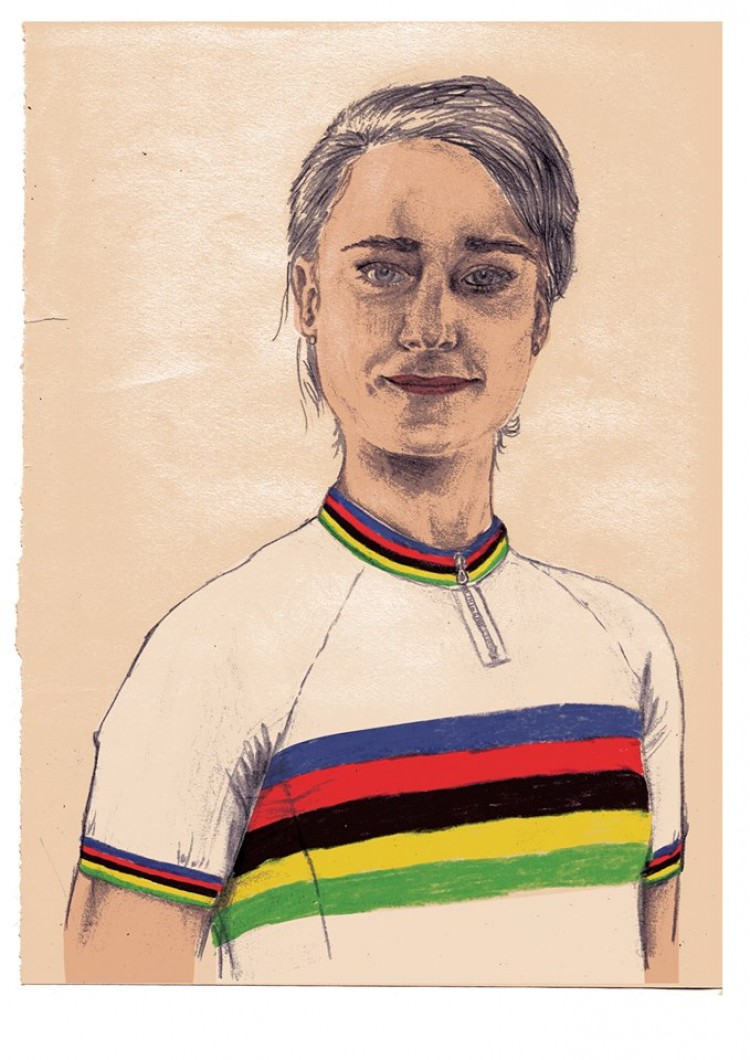 Marianne Vos by Saskia Haex
Working for yourself can be hard, Saskia explains, she tries to set goals every year. Goals like, getting better at drawing. At the end she explored that just doing what you want to achieve, makes you actually achieve it by the end of the year. "By doing things everything just happens, one thing leads into the next." In the past my goals were working on festival campaigns, designing the posters and flyers, this actually is at the moment one of the things I do mostly, I get creative freedom, people choose to work with me because they know my style and trust the product I deliver, that's GREAT!
Check out http://www.buro-atelier.com for more of Saskia's work, and contact Saskia if you ever need a great illustration and graphic designer.