21 December 2015 // Puck Gall //Amsterdam
//

LUCKY PEACH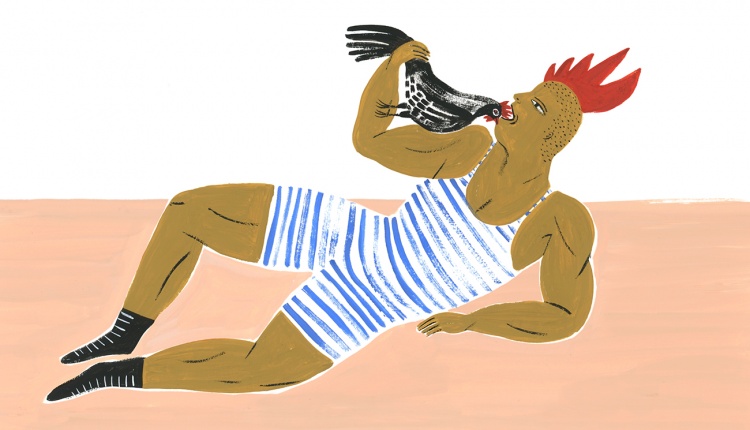 One of the things I love most in life is probably food. There is something about the simplicity of food that attracts me. We all need food, if we eat good food it makes us feel better, we can share food and we all enjoy different types of food.
Watching cooking shows is also my idea of ultimate relaxation. Two favorites are; 'Dagelijkse kost' with Jeroen Meus and 'The Fabulous Baker Brothers' with Tom and Henry Herbert.
I am off course no chef but I secretly would love to be. Cooking for people who love food must be one of the best feelings ever. Food often also carries strong memories. I still remember the birthday cake my late grandmother used to bring for my birthday every year, it makes me drool just thinking about it. It was a crunchy yet light hazelnut mocha meringue cake. But also when eating langoustines it always brings me back to our summer holidays in Bretagne, I have a vivid memory of these big platters filled with seafood.
Although I know that we have always talked about food, I feel like there is a bit of a food hype happening at the moment. Foodies write blogs about healthy organic vegan super food. Every month there is a new ingredient that we should stop eating because it is killing us, while we replace it with a new super food that only grows in the far Himalaya. Personally I think it takes the joy a little out of eating if I constantly get reminded of the damage it might do to my body. Off course I believe in good food, but more as in soul food. It just needs to be delicious and exiting. We need to celebrate food and this is exactly what the founders of Lucky Peach are trying to do.
David Chang and Peter Meehan started the magazine Lucky Peach in 2011. David is a world renowned chef and co-founder of Momofuku which actually means lucky peach. Peter is a food critic who worked for the Times and helped David writing the Momofuku cookbook. The two friends have a deep love for food and mainly started Lucky Peach to share stories that interests them regarding food. Every issue has a special theme that they will explore to the fullest, with names like 'The Plant Kingdom and 'The Sweet Spot'. The latest issue is dedicated to the most important meal of the day breakfast.
In comparison to other food magazines I find Lucky Peach to be very surprising. Off course you will find recipes a like 'All The World's a Hot Dog Topping' where they show of 19 different fun hotdog toppings. And interviews with chefs like Corey Lee, which makes the magazine interesting for professionals and amateurs. They have a guide to good places and restaurants, but they will also list the 15 worst restaurants in America. They will write about anything, I love it that they also hit topics that are more about the way we think about food. Articles like 'The importance of Ugly Fruit' and 'Inside the Best Grocery Store on Earth'. Their enthusiasm creates a broad diversity of topics but also gives the magazine a bold attitude.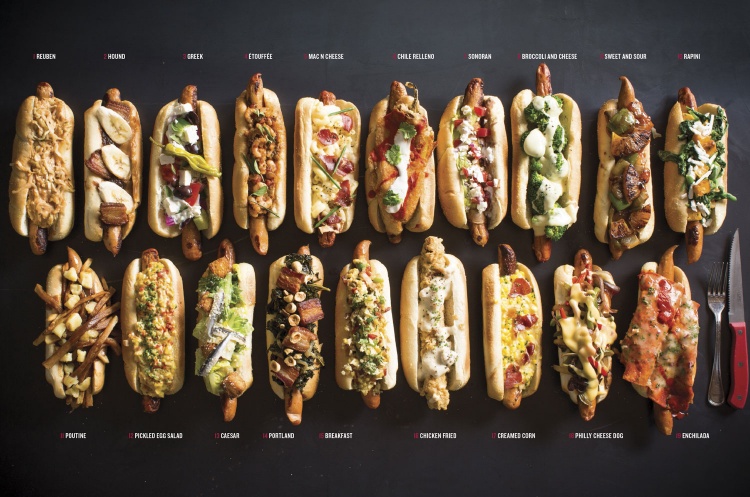 Next to their great writing skills and refreshing topics the layout of the magazine is also one of the reason why I love it. With strong pictures and great drawings the magazine really pulls you in. To me it looks better than most art and design magazines. For anyone who loves food this magazine is worth checking out. You can buy it at Athenaeum in Amsterdam or online. If you are not sure yet then you should definitely check out their website which is equally as beautiful, www.luckypeach.com.
Here is one Christmas worthy recipe by Danny Bowien (one of my favorites cool chefs) & Chris Ying that looks and sounds crazy amazing.
Mission Chinese Food Kung Pao Pastrami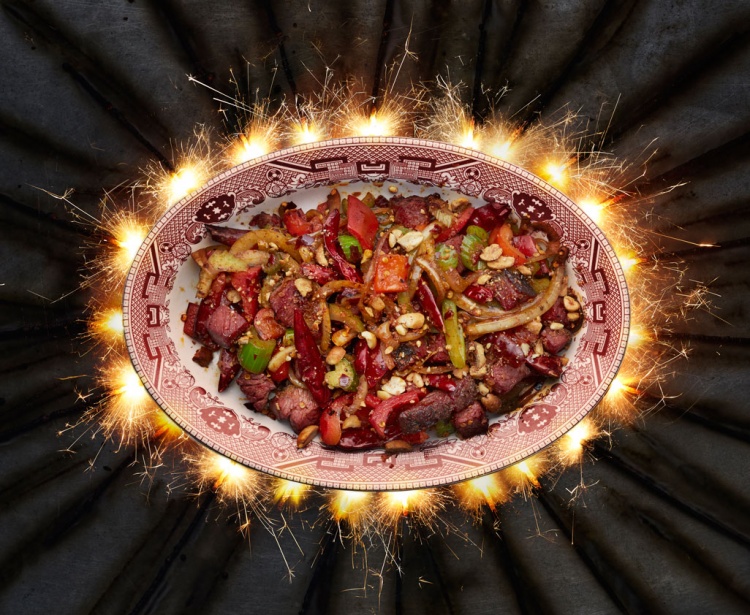 After more than three years of labor, our dear friend Danny Bowien and our editor-in-chief Chris Ying have birthed the Mission Chinese Food Cookbook. And it's a beauty! There's an energetic, candid telling of Danny's winding journey from a wayward adopted youth in Oklahoma to being one of the most recognizable chefs in America. And the recipes and cooking advice come directly from the kitchens of the restaurants in San Francisco and New York, where Danny and his team basically taught themselves how to make a version of Chinese food that is uniquely their own and singularly irresistible.
Here's the Kung Pao Pastrami recipe from the book.
SERVES 4 (OR 6 AS PART OF A LARGER MEAL)
. + kosher salt
. 1 medium Yukon Gold potato, peeled, halved lengthwise, and cut into ¹⁄8-inch-thick half-moons
. About 1/4 C vegetable or peanut oil
. 3/4 pound pastrami, cut into ¾-inch cubes, or unsliced deli pastrami, cut into ½-inch cubes
. 3 celery stalks, cut on an angle into 1/8-inch-thick pieces
. 1 red jalapeño, cut into ¼-inch thick rounds
. 12 chiles de árbol
. 1 t Mushroom Powder
. 2 to 3 T spicy chili crisp (Lao Gan Ma brand)
. 2 T soy sauce
. 1/2 C Fried Peanuts
. 1/4 C chicken stock or broth
. 1 T Fried Garlic (optional)
. 1 t ground Sichuan pepper
. 1 t toasted sesame seeds
. 2 T finely sliced jiu cai (Chinese garlic chives) or scallions
MUSHROOM POWDER
. 1 (1-inch) square dashi kombu
. 1/2 oz stemmed dried shiitake mushrooms
FRIED GARLIC
4 to 6 cups vegetable oil, for deep-frying
. 1 Bring a pot of well-salted water to a boil. Add the potato and blanch for 30 seconds. Drain and set aside.
. 2 Set a wok or large skillet over high heat and get it very hot. Add a thin coating of oil—it should be shimmering, almost smoking. Working in batches, if necessary, add the pastrami cubes in a single layer and don't touch them—allow some of the fat to render and the meat to caramelize for 30 seconds or so before stirring gently, so as not to break it up too much. Continue in this fashion until all the meat is browned on at least a couple of sides, about 3 minutes. Transfer the pastrami to a plate or bowl.
. 3 Let the wok get scorching hot again. Coat with oil again, then add the celery, jalapeño, and dried chiles and stir-fry just until they begin to soften, about a minute. Add the blanched potatoes and continue to stir-fry for another minute or two, until all the vegetables are cooked but still have bite to them.
. 4 Add the mushroom powder, chili crisp, soy sauce, peanuts, and stock to the party, stir, and bring to a boil. Return the pastrami to the wok and toss to combine.
. 5 Scoop everything out onto a warm serving platter. Sprinkle with the fried garlic, Sichuan pepper, sesame seeds, and chives and serve immediately
MUSHROOM POWDER
Makes about ½ cup
. 1 Use a pair of kitchen shears to snip the kombu into 4 or 5 smaller pieces, then grind it to a fine powder in a spice or coffee grinder or blender. Transfer to a bowl.
. 2 Grind the mushrooms to a powder and combine with the kombu. Store in an airtight container at room temperature. Like ground spices, this begins to lose its potency immediately.
FRIED GARLIC
Makes 2 cups
. 1 Pulse the garlic in a food processor, scraping down the sides of the bowl with a spatula between pulses, until uniformly minced.
. 2 In a deep saucepan or a wok, heat about 2 inches of oil until it registers 300°F on a deep-fry thermometer. Set a fine-mesh strainer above another saucepan. Add the garlic to the hot oil—it will cook very quickly, so be sure to get all of it into the oil at once—and stir continuously for about 1 minute. When it's barely golden—about the color of dried pasta—pour the hot oil and garlic into the strainer. Use a spoon to redistribute the garlic to promote drainage, then spread the garlic out on paper towels to absorb excess oil. The fried garlic will darken further as the heat carries over, and the finished product should be the golden brown color of a Nilla Wafer. Let the garlic drain and cool completely. Reserve the garlic oil.
.3 Once the garlic is cool, it can be stored for up to a week in an airtight container.