20 June 2016 // Puck Gall //Amsterdam
//

GRACE WALES BONNER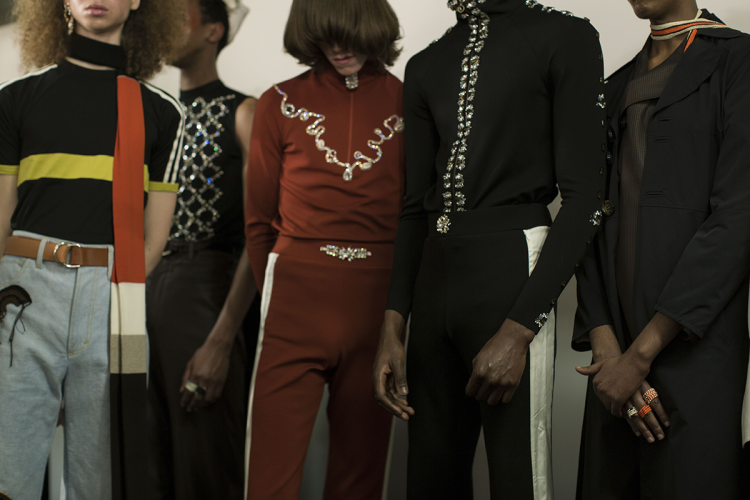 She just won this years LVMH prize for young designers, in my opinion one of the most exiting competitions of the fashion industry nowadays. The talent comes from all over the planet and the jury is everything but disappointing, with names like Phoebe Philo, Karl Lagerfeld and Marc Jacobs just to name a few. So it is not strange that all finalists are very talented and the winner is almost guaranteed a sunny future within fashion. Especially if you are as good as Grace.
Graduated from Central Saint Martins in 2014 in London she already made quite a name for herself. At just 25 (same age as me) this lady knows very well what she is doing and has a great approach to menswear.
With her Jamaican-British heritage she tells almost historic stories with her clothing. Her latest collection is inspired by black spirituality but told in a very delicate and wearable way. By playing around with the idea of masculinity Grace dresses her men in a traditional way that is combined with modern life. It makes the pieces really interesting because they border on the line of what modern African men want to wear and could wear, according to their social surroundings. She gives clothing and style the importance it should have, it is a way to express who you are personally and where you come from culturally.
The thing I love most about her work is the strong movielike images she creates but with pieces that are inviting to wear. As her clothing is already selling very well, the interesting part is that men and women like to wear it. So next to her personal story she masters the art of designing pieces that are wanted.
By creating such poetic films surrounding her collections shot in India and Senegal she shows that she knows how to mix various cultures in an respectful way.
To me it is clear that Grace is a huge talent and I am very exited to she what will bring us in the future. Hopefully she will give us more appreciation of black heritage and other various cultures. I can't wait to see her clothing walk around the streets on "normal" men and woman, mixed with denim shorts and trucker caps. Hallelujah for cultural diversity!