18 June 2016 // Anona van der Linde //Antwerp
//

MULLER VAN SEVEREN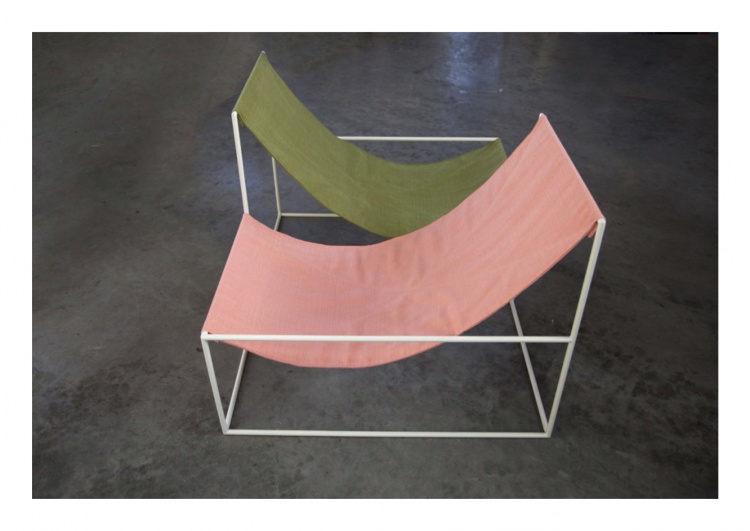 crossed double seat, 2012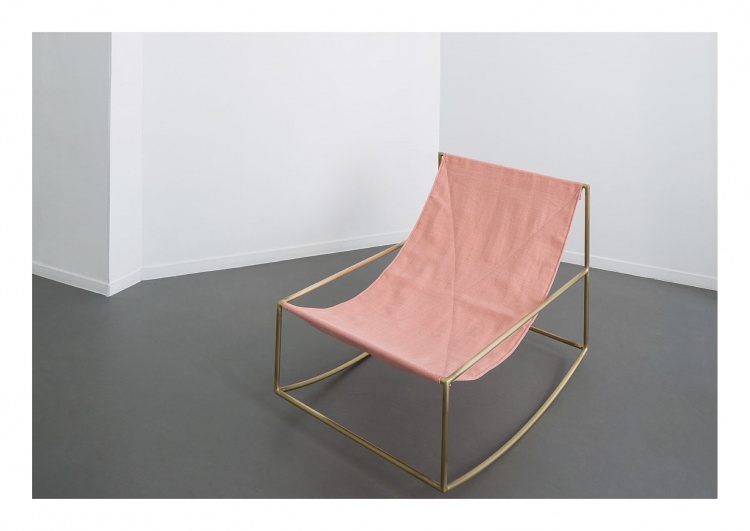 rocking chair, 2013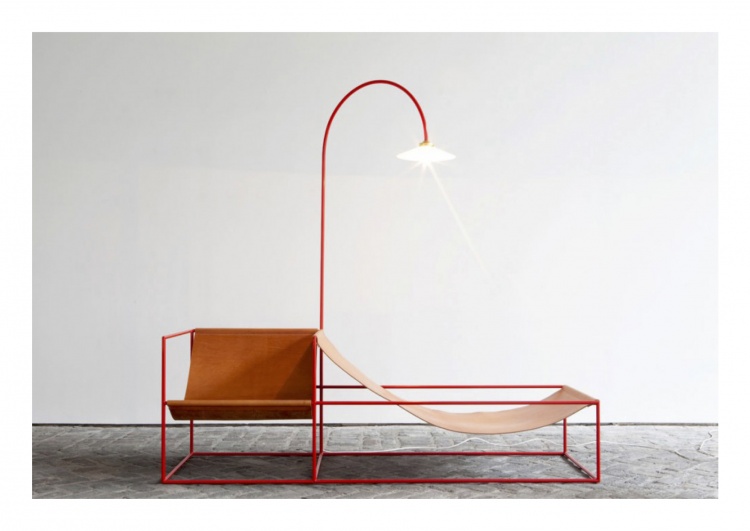 duo seat + lamp, 2011
Muller van Severen is a 'furniture project' by Belgian design duo Fien Muller and Hannes Van Severen, partners in work and life. The couple is located just outside of Ghent, in Evergem. They both make their own visual art. Hannes studied sculpture and is the son of designer Maarten van Severen. Fien graduated in Photography and also studied sculpture, at LUCA School of Arts. They believe that with pure art comes a pure interior. So they teamed up together to work on a furniture project; somehting that stands apart from their own visual art. What supposed to have been a one time project, grew into something much bigger. Their work is a thin line between art and design. They decribe their work as 'landscapes for living' - minimal, material-driven designs. All the pieces have a poetic feeling and give a room more depth. Color is a very important part of their work - their simple furniture designs and use of materials are very much their own by their unique color combinations and combined functions.
Fien works a lot with color in her own photography - sometimes with bold color combinations, sometimes more subtle colors - she has a great feeling for the harmony of colors. Her interest in materials is also visible in her work. Her compositions consist of everyday objects that become interesting when they are placed next to each other. Hannes' work is more about the familiar becoming absurd. He uses ordinary objects that lose it's function and become irrational.
Their first collection was launched in 2011 for gallery Valerie Traan in Antwerp. They soon became a well-known duo in the design world. In the mean time they have been selected for Wallpaper's Power List 2015, a top 100 list of the most influental designers. They won the 'designer of the year' award in Belgium in 2015 and they won the Flemish Culture Award for Design in 2013-2014.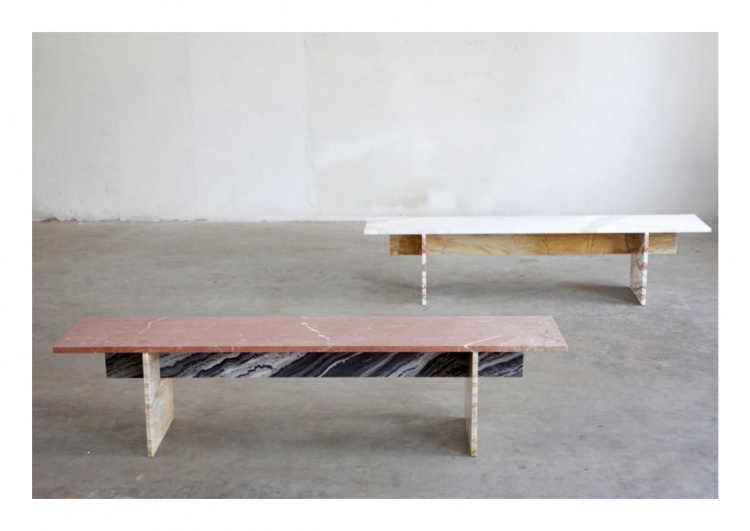 marble bench, 2015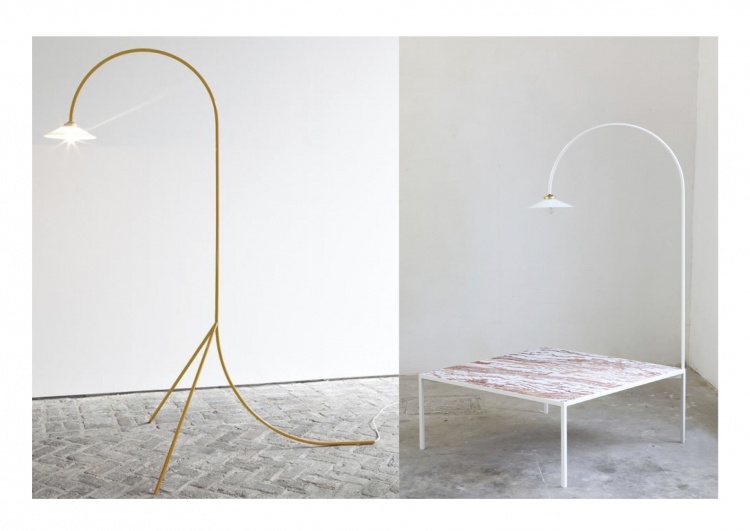 standing lamp n1, 2011 / low table + lamp, 2011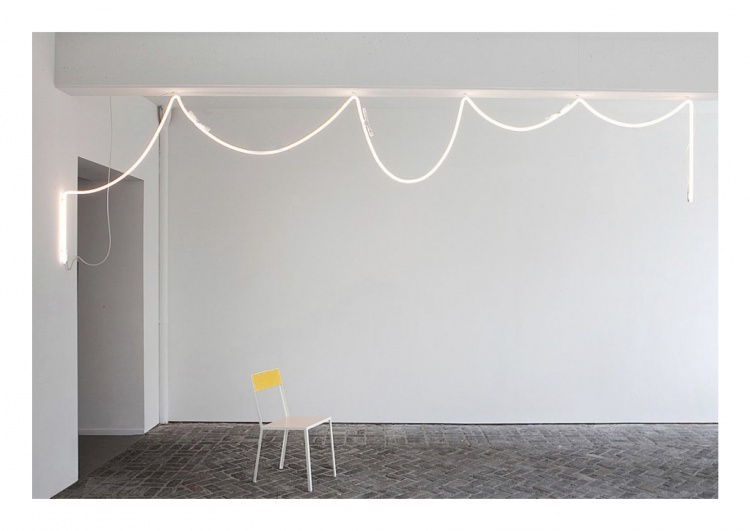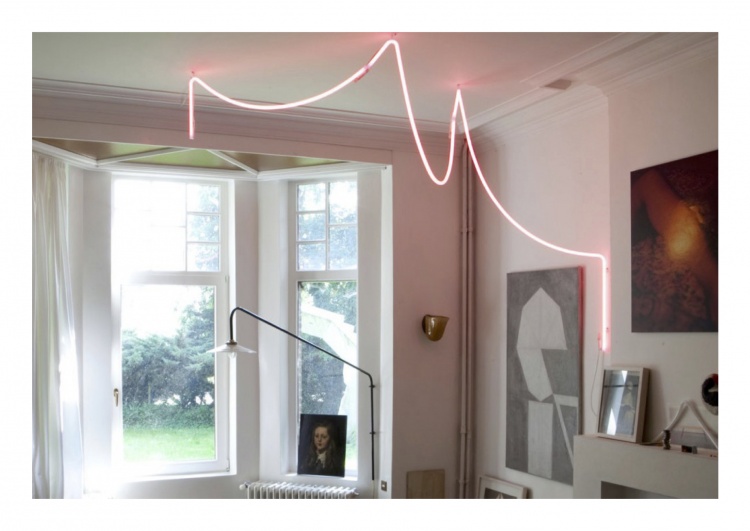 neon, 2014
For the Biennale Interieur 2012 they were selected for the Future Primitives series. For them the theme Future Primitives was about primitive forms and basic materials being updated for the future by combining different functions into one piece. They used strong and simple materials like tubular steel and leather. The pieces are timeless, because they could have existed in the past as well as in the future.
Another project they recently worked on was for Petit h, a brand by Hermès. Petit h is a platform where designers and artisans work together and develop new ideas, by giving new life to leftover materials from Hermès. They have created a series of four pieces, a wall hanging made out of leather 'waves of leather'.
Their latest project is the design of furniture and lighting for one of the Solo Houses, south of Barcelona. The Solo Houses are twelve architectural vacation homes, designed by the world's most talented architects of this generation. The house is designed by Brussels based office Kersten Geers David van Severen - it's a ring-shaped house that almost disappears into the landscape, with a large pool/pond in the middle as a courtyard. Muller van Severen wanted to emphasise the very open feeling the house has, so they made some floating furniture for by the pool out of wire - which is see-through - so you can still see the architecture behind it. The shapes are inviting you to lay down, like a curled up matrass.
Their vision on functionality is innovative and creative. Their furniture pieces are like sculptures and could easily work as a piece of art on its own, yet the (multiple) functionality they are given makes them pieces to be lived in/with. Like the double chair that invites two people to make conversation. The pieces suggest different ways of living and use of space.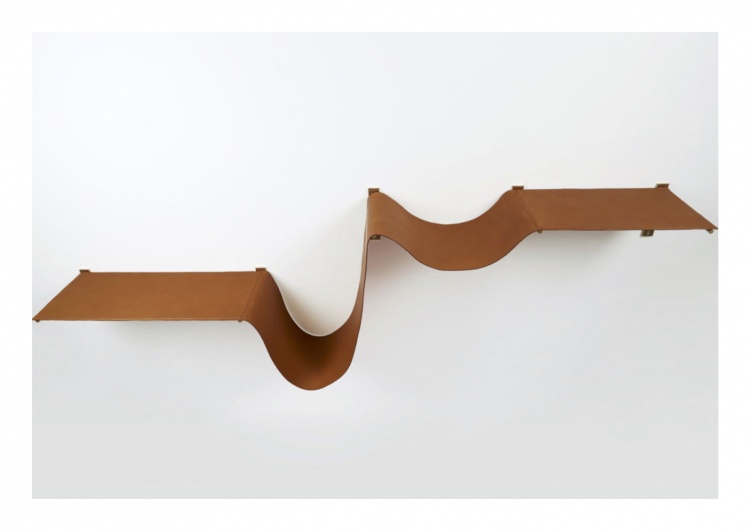 waves of leather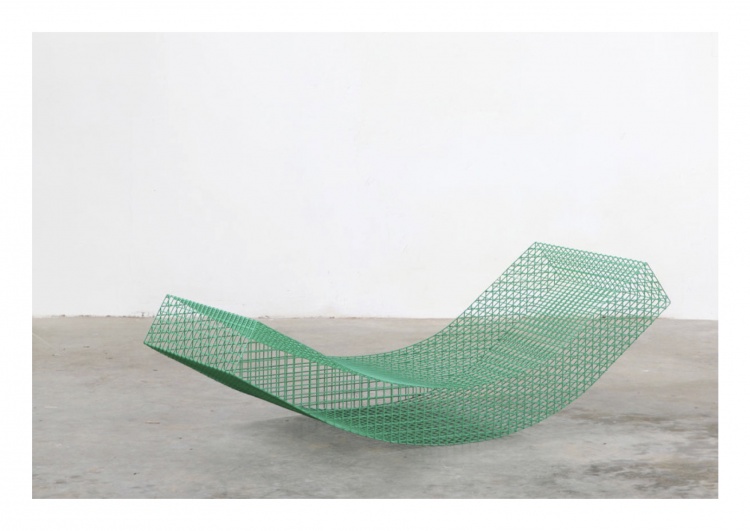 wire s #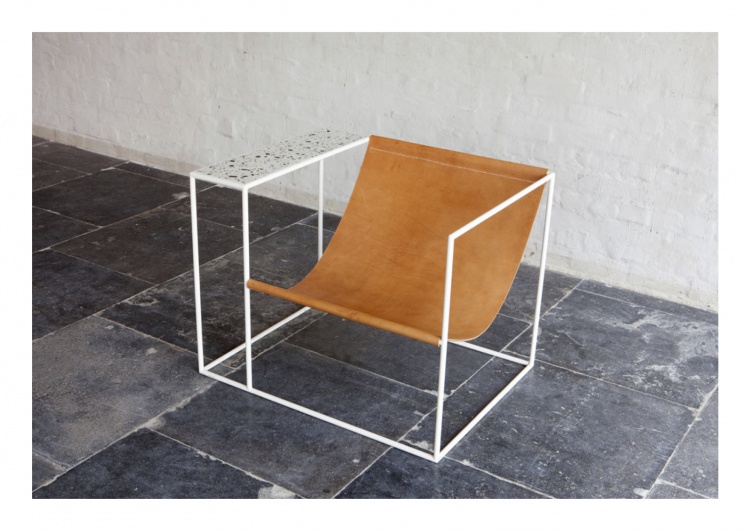 solo seat granito, 2012