28 March 2016 // Puck Gall //Amsterdam
//

ECKHAUS LATTA

Often I find that fashion can be a quite stiff and unexciting industry. It is mostly shaped by big commercial brands that mainly focus on sales and marketing. The clothing itself almost can feel secondary.

The tricky part about interesting experimental fashion brands is often that they make clothing too complicated and therefor not accessible for most customers.

It is a frustrating cycle that discourages a lot of young designers to really think differently. Fortunately there are still a few exiting young brands that show us how it is really done, like Eckhaus Latta.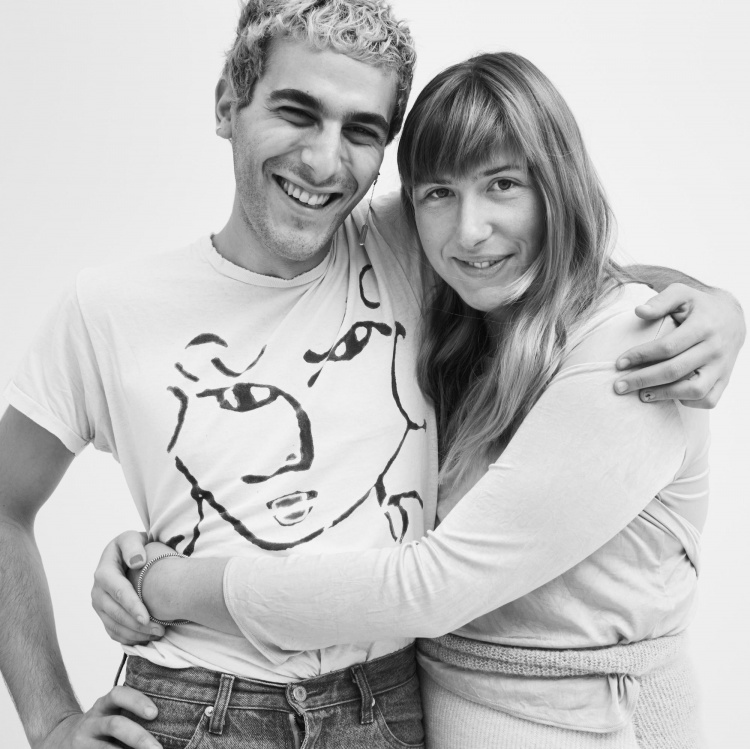 Mike Eckhaus and Zoe Latta met each other at the Rhode Island School of Design. Zoe studied textile and Mike sculpture this already gives them a different approach to fashion than most schooled designers. When they moved to New York, Mike's hometown, they first had regular yet good design jobs. Mike worked as a jewelry designer at Marc Jacobs and Zoe worked for the Met and started her own textile company. They say that there was nothing wrong with their jobs but they got quite tired of the market-driven practices within their jobs. This frustration and urge to create and make their own stuff made them decide to start their own label.
Because they never made any clothing before they describe this first period as a long and tough phase off tryouts and errors. They did take some courses but mostly created their pieces based on their gut and instinct. An approach they still firmly believe in. After a year of testing it resulted in their first collection in 2012. Now 2016 we are 9 collections further and Eckhaus Latta is doing very well.
I really like the way they talk about their customers; they call them a "liberated audience". "We want people who wear our clothes to feel like (our clothes) are adding to them, not defining them," Zoe Latta.
This is the key to their success in my opinion. They have such a diverse clientele; all ages, shapes and unisex in a natural way. There is never a specific inspiration image because they don't want to define their clothing like that. Mostly they say that materials work as their biggest inspiration. They don't just go for the conventional fabrics but like to try out types of plastics and other materials that you would be able to find in a hardware store.
They also experiment a lot with various ways of presenting their work. Their catwalk shows are more like live performances. Together with a close friend and director Alexa Karolinski they make films that are linked to their collections but feel much more like an intimate art pieces. Their use of nobels (non-models) is also something that I really appreciate. It shows the clothing so beautifully on all kinds of people without losing it's cool. It just shows how well their clothing is designed in my opinion.
Making it now on the 2016 Forbes 30 Under 30 list they are not only receiving the recognition that they deserve but it also shows how much they are growing.
They are seen as the frontrunners of a new generation of underground fashion labels, redefining the once-exclusive and commercial fashion world.
This optimism is contagious and it makes me believe in the possibilities of fashion again.
Dear Zoe and Mike please PLEASE never compromise to often and keep following your insanely spot-on intuition so that we can all keep believing in the power of the experimental underdogs of fashion!