28 October 2016 // Serena Asselman //Rotterdam
//

SOTINE

'The material guides me, I always try to keep shapes as organic and pure as possible' - Annelotte Vos, owner of jewellery brand SOTINE.
We visited Annelotte in her Rotterdam-based studio on an early Saturday morning. The studio is housed in a bright yellow building filled with studios of creative minds and is owned by creative organization Skar in Rotterdam.
She started her brand in 2014 but started her path differently. After finishing Artez art school for fashion she worked as a full-time designer / stylist / print designer and tried multiple things, 'I love learning new things, I was already working in fashion and I was looking for a new challenge and just needed a new hobby. As a child I was like a magpie and attracted to anything that shines. This resulted in a course for making your own jewellery. The course was one time a week, but I went 3 times a week, I simply couldn't rest knowing some things needed finishing and just loved it so much.' Making jewellery is quite a process, casting the silver, rolling the silver and then forging the silver, all steps take quite some time. And although Annelotte likes her shapes to be organic and lets the material guide her process, the product must be polished and beautiful. 'During the course, I even took a ring to a birthday I needed to finish, so I spent the evening polishing filling the ring.'
Inspiration comes from various places. 'As I love to travel and meet new cultures and customs as well, it struck me that I have a passion for purity, natural and the origin, in nature, people, emotions, shapes, art, in life.' She collected all kinds of unusual natural materials, which became her library of inspiration. This library is constantly being updated with new treasures from her many trips across the globe. Although Annelotte loves raw material like stones she explains it's hard to use them because she doesn't want to touch the natural shape or form too much. This doesn't mean she will not use them in the future, she will find a way to work with this beautiful material. She has an admiration for irregular and organic shapes 'I love objects, that carry an imprint of the past, something that tells you there is a story behind it. Or the fact that you can see the craftsmanship, knowledge, and effort.' This passion for organic she combines with clean lines and minimalistic shapes, this clash makes her jewellery even more interesting. In her past collection called 'ILLICIT' simplicity / minimalism where her main inspirations.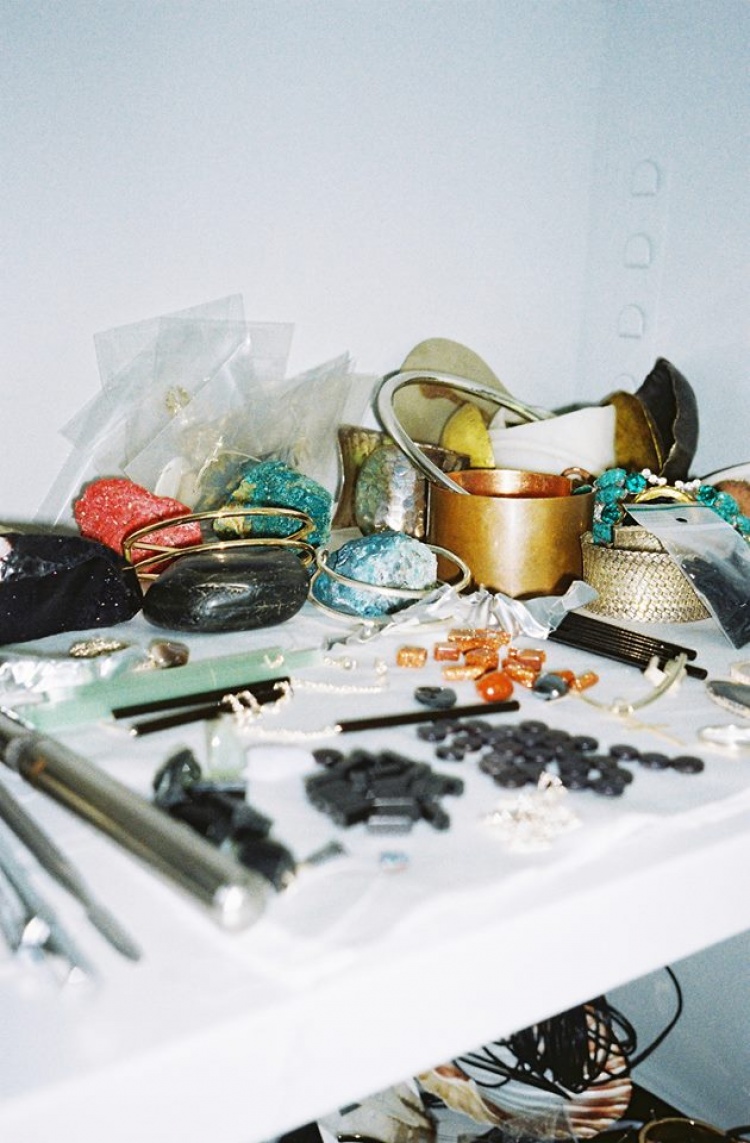 Annelotte is always renewing her designs and loves to innovate the way jewellery is worn. This is what makes her designs unique. One of these unique ways of wearing her ring / bracelet came from a lady who was wearing a special brace because of her rheumatism. 'It was like she was wearing a very cool piece of jewellery, it inspired my immediately.'
Annelotte is competing for a year of professional guidance and mentoring by FAB atelier, the organisers of this competition. And designing a collection full collection for FAB atelier in January 2017. She made it to the last 21 competitors out of the 60 and has to collect 70% of the costs with crowd funding to produce the pieces she designed.
For FAB atelier Annelotte created a small collection of 3 pieces called "the TAMI collection", which you can pre-order on the website.

The silver and gold TAMI bracelet gets its shape by forging the material. The TAMI ring, this ring is divided in two, where one part of the ring is silver and the other part gold. The ring is a massive piece, so this jewel will definitely stand on it's own. 'I created this ring by casting and it gets its shape by forging the material. Which is a long process of hammering and heathen of the material.'
'The TAMI earrings, are part of the TAMI collection and arose out of my experiment to make a anticlastic forged bracelet, there where it is usual to make this really smooth and equal. But because of my love for uneven, pure and organic shapes I choose to leave it unpolished and true to the shape that existed by itself.'
To support Annelotte please visit below links.
https://fab-atelier.com/product/353
https://fab-atelier.com/product/170
https://fab-atelier.com/product/349
Or visit Annelotte her website.