09 December 2015 // Serena Asselman //Rotterdam
//

GIUSEPPE MODICA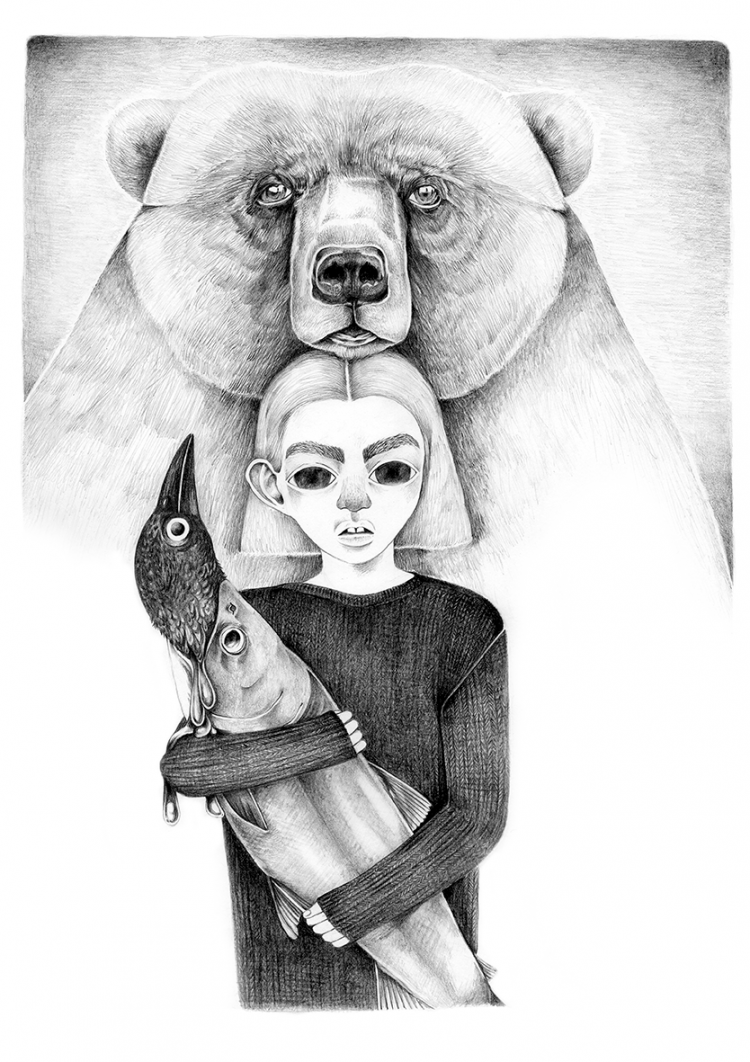 Dear Giuseppe, thanks for making time for us to answer some questions about your work and inspirations. Can you introduce yourself briefly?
I'm Giuseppe aka Giuse or hellogiuse and I'm a dutch based artist that graduated from the Willem de Kooning Academy Rotterdam. Where I studied illustration. I also spent a semester at the Art Institute in Boston were I mainly focused on traditional animation.
We love your work, how would you describe your drawing style?
Well to be honest after graduation I was between worlds. Mainly I got lost in what I learned and the expectations of others weight upon me. To many options and what is my style anyway? I'm not graphic nor a realist nor a cartoonist. Yet I see it all back in my work. I'm really good in making people feel my emotions without many words. Lately I'm using this in my work and have been doing so sinds April this year. If you'd look at my social media you can see the transformation. My illustrations are all about me and my emotions. No more trying to control what I create. Just do. And somehow I'm starting to see my style emerge and hopefully in the future I can put it to use in many ways and forms. So if I would give name to my style it would be self-centred surrealism.
When did you start making illustrations?
Illustration to me is therapeutic. Like those colouring books for adults, but cool. I started really young like everyone. It just kinda stuck with me. There is something beautiful about creating your own reality. This unlimited acces to the universe within. Giving shape to thoughts and emotions is mind-blowing. Drawing became more relevant when I didn't feel like a typical kid anymore. There was so much hurt around me. I won't go into details but I was young, around 11, and this hurt pushed me into a deep spiral of depression. Eventually there was this big void between me and these kids around me. I loved my childhood friends but what they longed for seemed so irrelevant. I was hiding my inner-self and used drawing as my escape.
What is your favourite material to work with and why?
The academy introduced me to many mediums. I actually graduated with a minor traditional painting. I worked with a lot of old technics like etching. And this digital era it amazes me. Especially when artist can emote in a digital medium. However no matter what medium I tried I always reached back for the pencil. It seems endless. I just love it. I'm actually gonna try lithography next year. I feel that will be a big development in my growing process. And I'am still working out on how I will colour my work. If anyone knows something that might work on top of pencil I would love to know, but black and white is fine for now.
In your work we see a lot of animals, what is your connection with these creatures?
It is peculiar to have this connection with another species. Trying to understand how they work. Trying to win them over. It is a primal thing. I think people like to reflect upon animals. Finding understanding of self by doing so. This connection is of importance somehow. In my illustrations the animals are the protector or the reflection of the soul. A scream for help a longing fo freedom. Secretly hoping someone will notice or remember them. These kids emote from the shadows. You can see them hiding behind the animals. You feel those children aren't typical you see it in the posture you see it in the eyes. These animals are the only connections to the physical world.
Who or what inspires you and why?
The artist that I admire are storytellers. I have these major influences when it comes to art like Femke Hiemstra, Camille Rose Garcia, Audrey Kawasaki, Miyazaki Hayao, Wes Anderson. But to really find myself and my own style I had to look less to those that I admire. Now if I get in a ruth I just pickup my coat and do things by myself. Like see a movie or explore a city. Walk around and look people straight in the eyes. The last movie by myself was the Lobster by Yorgos Lanthimos. I'm also reading this book right now by Murakami Haruki called Colourless. For my illustrations I look at lifestyle blogs. I try to find pictures of animals and items that fit into my surrealistic world. I listen to music that amplifies what I feel (Julianna Barwick right now). And just go with it.
What was the biggest compliment you ever got (work related)?
I think the biggest compliment is when someone gets it. Saying something like, 'they look sad but strong'. And it always amazes me that emotions are universal and everybody can relate. So somehow they understand me and that is nice. I use to get really shy when I get compliments, but now I just roll with it and be thankful and actually ask questions about what they think and feel. That really fascinates me.
Recently you made a portrait of my friend's dog that we adore, do you like commissioned work. Or do you rather have the freedom to draw whatever you feel like?
That is the big issue. And I'm still figuring it out. I thought making money of commissioned stuff would be the shit. Quite frankly it leaves me empty. I really do think it is because I havent fully found my confidence. This year has been a big turning point though and I know now what I'm capable of. And I'am feeling confident more then ever. Doing animal portraits is lots of fun.
If you could choose a brand to collaborate with, what would it be?
I think anything fashion related. I don't know why. In my mind it just clicks. Fashion plays this big role when I draw. I want my drawings to be timeless yet of now. I think I'm flattered no matter what kind of brand wants to collaborate. As long as they wanne collaborate for the right reason. Like with the skateboarding animal I did many years ago. I got many request from all sorts of brands. Non of them were skateboard related. So I declined. I don't wanne win over the wrong kind of audience just so I/they can make money.
What's your dream for the future?
I want to tell stories with these heavy down to earth philosophies. I want to reach out to kids and grownups who know how it is to be lost in life. Show them it's ok and a big part of it all. Sadness has this beauty that many people try to ignore. If you don't defy it, it will hunt you for the rest of your life.
Do you have a website or a way people can connect to you?
I do. Please follow me if you like my work and growing process on my
instagram http://www.instagram.com/hellogiuse/
If you might know something that might raise my curiosity you can contact my with gcmodica@gmail.com or Facebook message me.
On my website you will find the links to my other social media www.giuse.nl